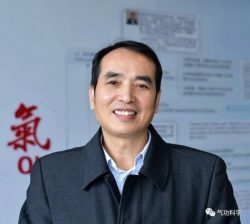 Professor Zhang Wenchun is a Doctor, Professor and PhD Supervisor. He is currently the Rector of Jiangxi University of Traditional Chinese Medicine and Life Sciences, and is also the Director of the Chi Kung Research Institute.
He is adjunct to the Vice President of the Chinese Medical Chi Kung Association, Deputy Director of the Committee of Experts of the World Academic Society of Medical Chi Kung, Vice Secretary of the Chinese Association of Chinese Medicine in the Department of Basic Theory of Traditional Chinese Medicine; Deputy Secretary, Department of Health Care, World Federation of Chinese Medical Societies.
He is dedicated to the teaching, clinical and scientific research of TCM Basic Theory. Based on the TCM theoretical system, it integrates in a unitary view Chi Kung, Psychology, Biomedical Engineering and Modern Physics; It is dedicated to researching the essence of modern Qi science in TCM and introducing the characteristics of Acoustic-Opto-Electromagnetism into the biological field of the human body, explaining the mystery of TCM thus promoting innovation and its development.
He directed a number of state-funded scientific research projects and edited the 13th National 5-Year Plan for 'Health and Rehabilitation of Traditional Chinese Medicine', 'Qigong of Traditional Chinese Medicine'; ́Traditional Chinese Rehabilitation Skills ',' Traditional Chinese Medicine Sports and Health Care ',' Internal Traditional Chinese Medicine Syndrome Inspection ', among others.